The landlocked country of Nepal despite being quite small is blessed with multiple beautiful places. It is home to eight of the world's fourteen eight-thousander mountain peaks, and has plenty of other splendid places including valleys, forests, lakes, caves, temples, monasteries and palaces that offer jaw-dropping sights! Each of these beautiful places in Nepal stands out in its unique way. Here's a list of the 20 most beautiful places in Nepal that you must visit.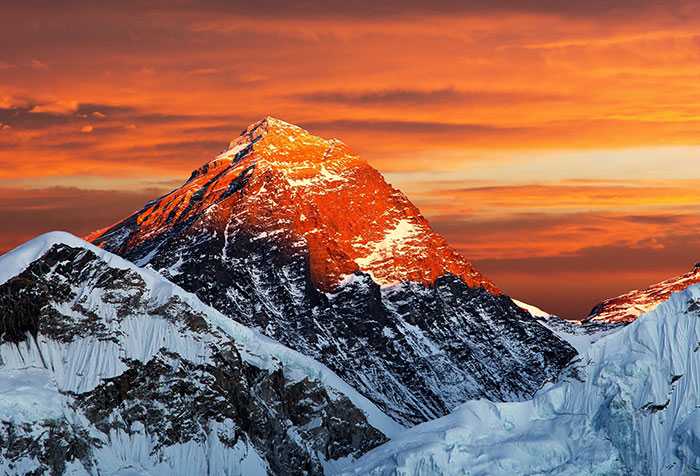 All of us knows that the highest mountain in the world – Mount Everest – lies in Nepal. While most of us can't summit the mighty peak, a lot of people (over 30,000 per year) trek and reach the Everest South Base Camp that lies in the Khumbu region of Nepal. Although the path is full of perils, once the Base Camp at an altitude of 5,364 metres is reached, it offers astounding views of the magnificent Mount Everest and all the other adjoining mountains. No doubt it is one of the most sought-after treks by trekkers throughout the world despite being one of the most difficult. Kala Patthar, close to the base camp, is another famous viewpoint that offers similar views.
Read more about Everest North Base Camp
Location: Khumjung, Nepal
Best time to visit: March to May and September-October
Entry fee: The base camp lies inside the Sagarmatha National Park, and the Gaurishankar Conservation Area and entrance fees for both has to be paid. For the first one, it is NPR 1695 for residents of SAARC countries, NPR 3390 for other foreigners (all inclusive of VAT), and for the second – NPR 226 for residents of SAARC countries, NPR 2260 for other foreigners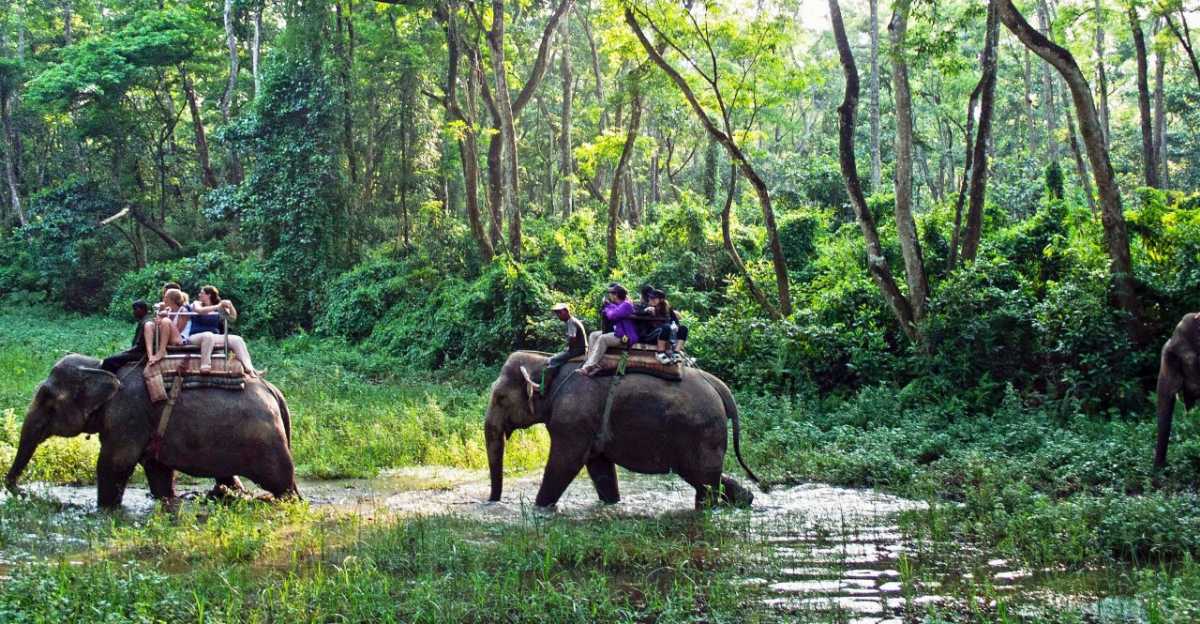 Lying in the southern Terai plains, a visit to Chitwan National Park is recommended not only for animal lovers but for all people. The lush green forests, the lakes and the hundreds of species of animals and birds together combine to create a stunning landscape at this beautiful place In Nepal. It is even a UNESCO World Heritage Site and houses critically endangered animals like the Royal Bengal Tiger, one-horned rhinoceros and gharial crocodiles. Expect to get more close to nature in the form of elephant rides, bird watching, canoeing and jeep safaris that take you deep inside the jungle.
Location: Subarnapur, Nepal
Best time to visit: January to March
Entry fee: NPR 850 for residents of SAARC countries, NPR 1700 for other foreigners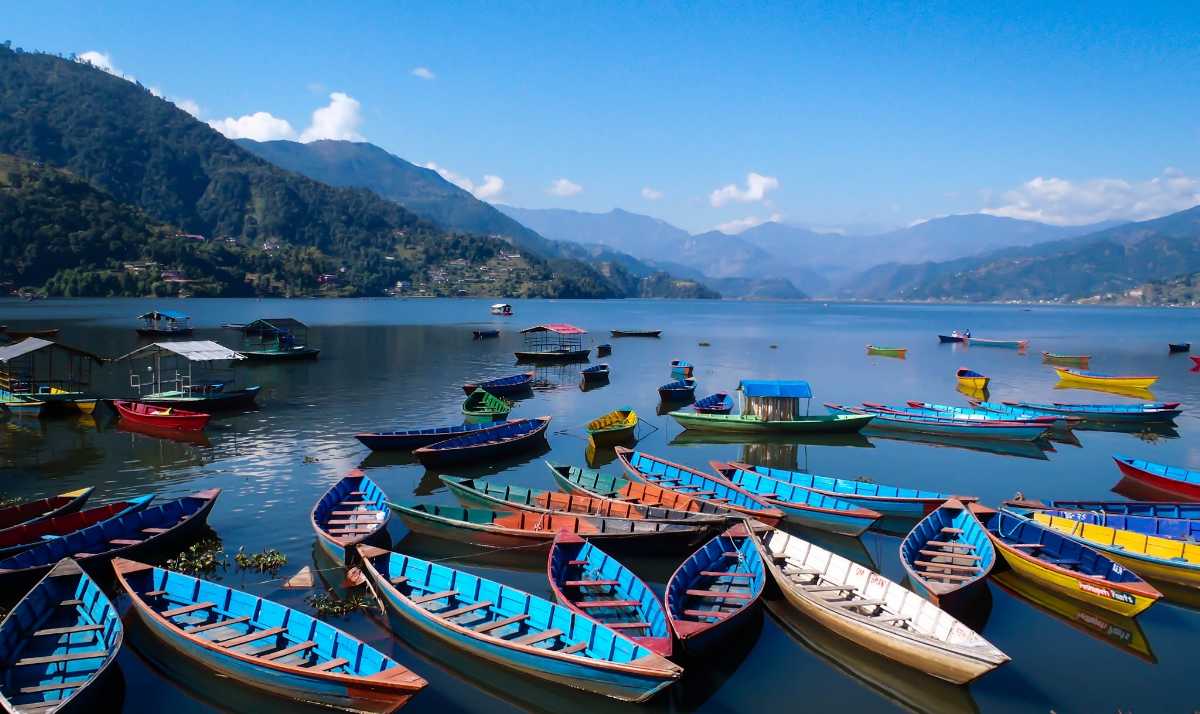 The second-largest freshwater lake in Nepal, Phewa Lake is top-rated among tourists. It is vast and breathtaking, surrounded by the Annapurna, Machhapuchhre and Dhaulagiri mountain ranges, forests on one side, and the Tal Barahi Temple which lies amidst the lake. Boating at Phewa Lake especially at sunsets is one of the must-do activities in Nepal, to witness the play of colours in the evening sky, the reflection of the mountains in the water and the lights of the numerous cafes and entertainment areas lining the lake, making for wonderful snapshots.
Location: Pokhara city, Kaski district, Nepal
Best time to visit: September to November
Entry fee: No entry fees, but rent has to be paid for hiring boats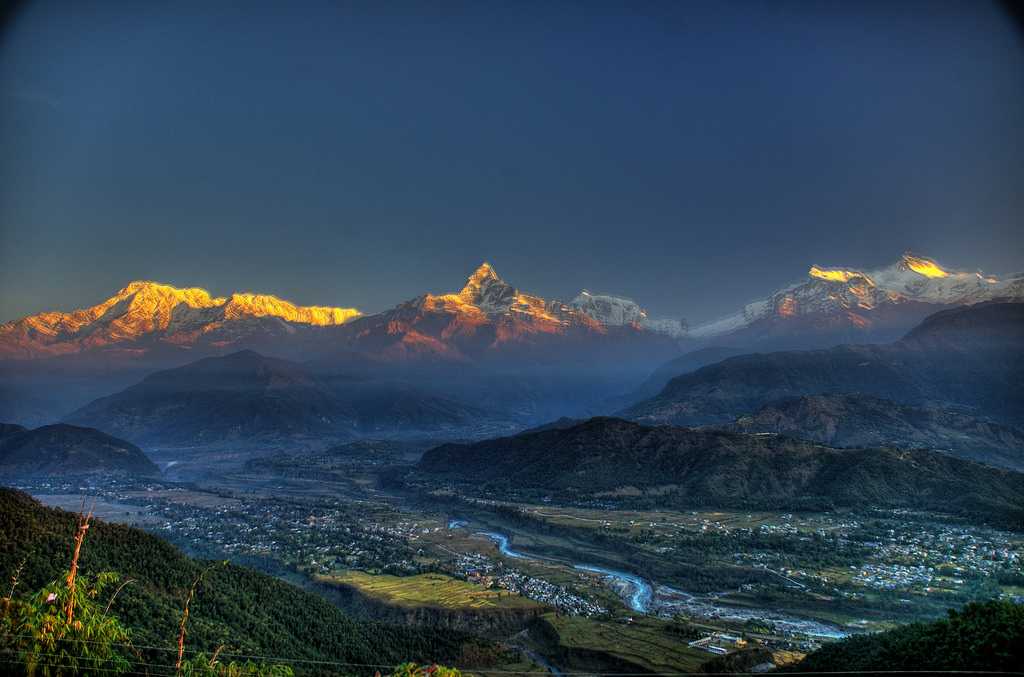 A trip to Nepal is incomplete without watching the sunrise at Sarangkot, a village located at 1600 metres above sea level. It has a viewpoint that offers picture-perfect views over the city of Pokhara and Phewa Lake, and the Annapurna, Manaslu, Machhapuchhare, Dhaulagiri and Lamjung mountains that lie on all its sides. Good news for adrenaline junkies – paragliding opportunities are also available here!
Location: North-east of Pokhara, Kaski District
Best time to visit: Throughout the year at sunrise or sunset except for cloudy days
Entry fee: Around NPR 100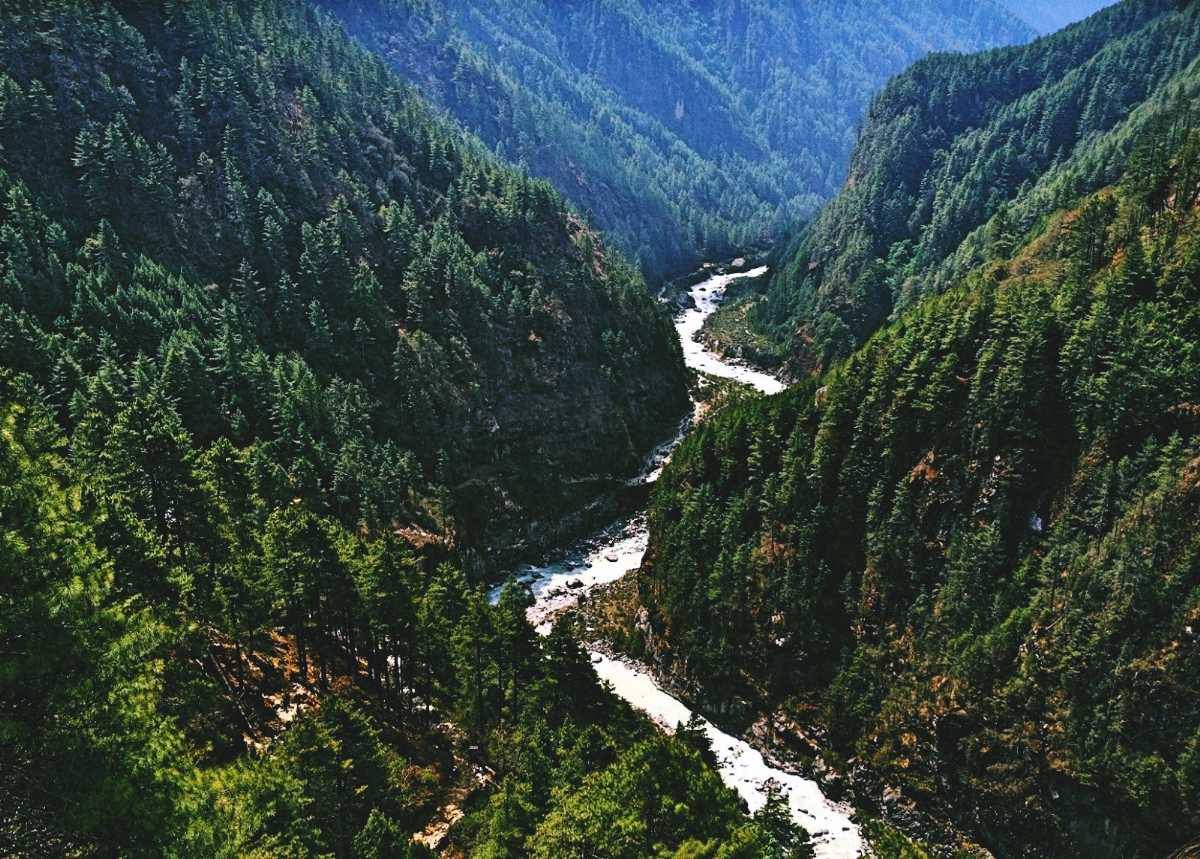 Sagarmatha National Park lies in the north-eastern part of Nepal. The prime feature of the park is that it covers a wide area with altitudes ranging from nearly 3000m to as high as 8000m. Thus, this beautiful park has varying forms of flora such as dense forests in the lower regions, mosses and lichens in the high altitudes and with zero vegetation in the highest areas. This beautiful place In Nepal is known as the home of some of the tallest peaks of the world, including Mount Everest. The Gokyo Lakes that lie inside the park at an altitude of around 5000m is believed to be the abode of Hindu God 'Nag Devata' making it a pilgrimage site for Hindus and Buddhists. Several species of animals and birds also live inside the park. A must-visit for its picturesque topography.
Location: Namche, Province No. 1, Nepal
Best time to visit: March to May and October-November
Entry fee: NPR 1695 for residents of SAARC countries, NPR 3390 for other foreigners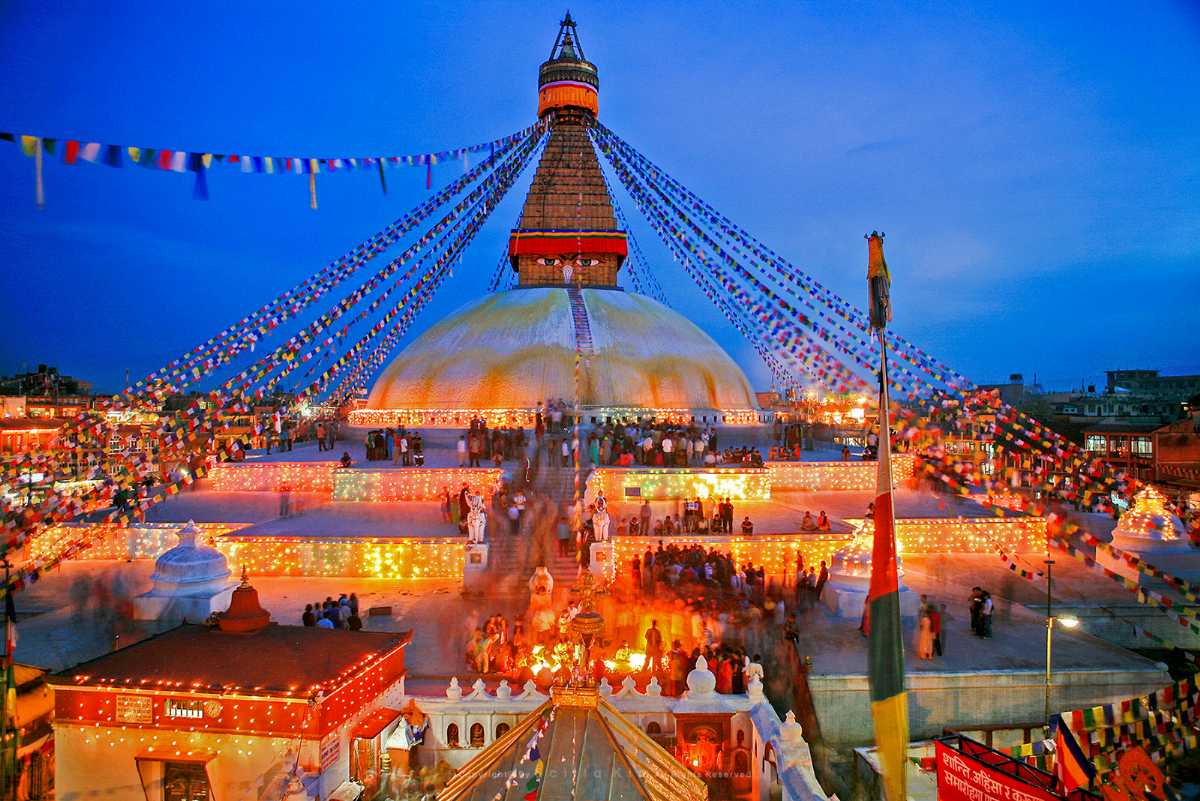 One of the biggest stupas in the world, Boudhanath has an aura and charm of its own. The UNESCO World Heritage Site is sacred for both Buddhists and Hindus alike. The exterior with the solid white dome, golden spire and numerous prayer flags paint a pretty picture along with the vibrant interiors decorated with Thangka paintings and containing large golden statues of the Lord Buddha and other Bodhisattvas. Should be visited both for its beauty and spiritual significance.
Location: Kathmandu, Nepal
Best time to visit: During the Tibetan New Year – Lhosar in February, and at other times in the evenings.
Entry fee: NPR 100 for residents of SAARC countries, NPR 400 for other foreigners
7. Barun Valley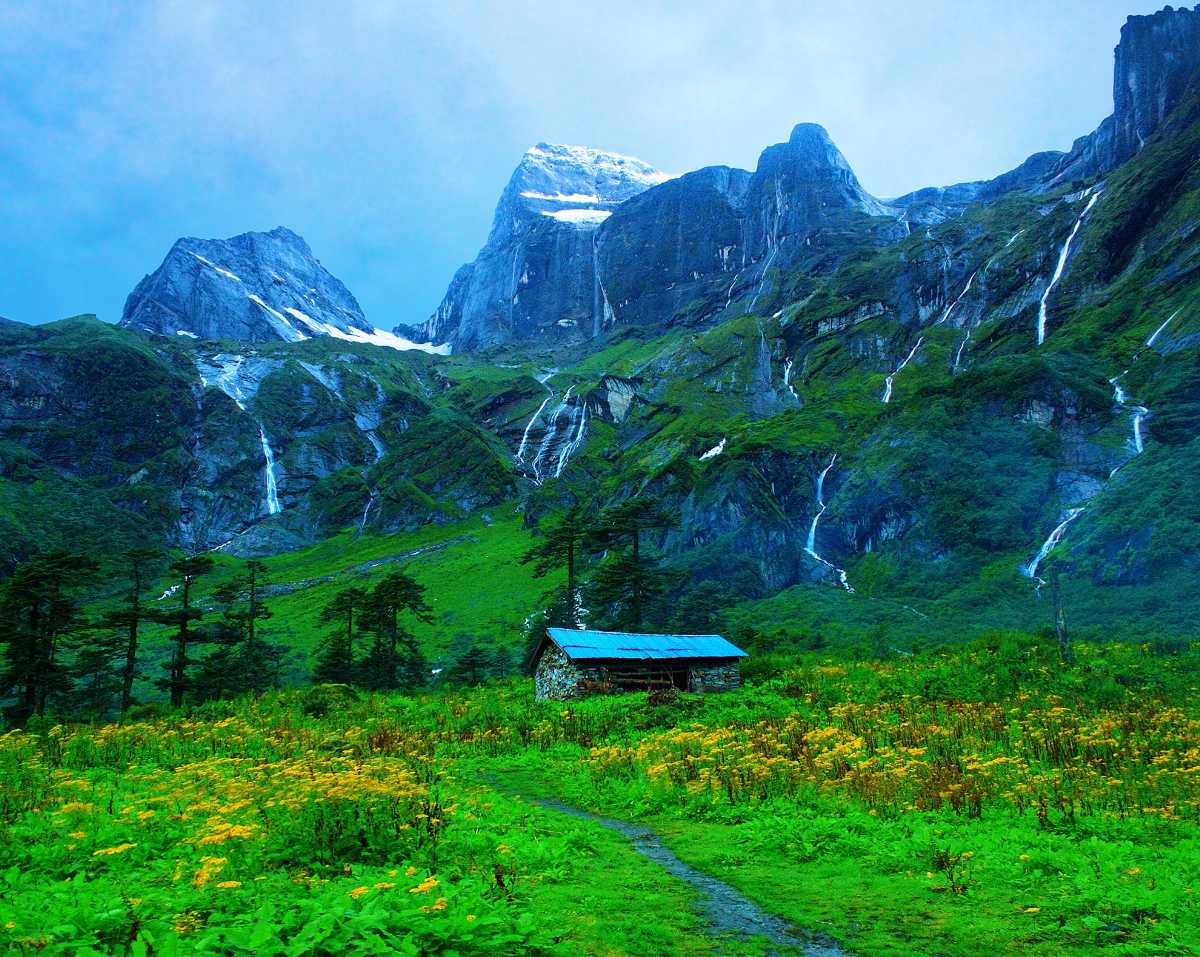 If you are in Barun Valley, you will see vast green meadows covered with flowers in a horde of colours on the one hand, while on the other, you will find mighty snow-dusted mountain peaks with numerous waterfalls. The place is so stunning it will leave you spellbound and make you feel like you are in paradise! Barun Valley even holds significance in Tibetan Buddhist philosophy and has a National Park containing a diverse array of wildlife. The area around the incredible alley does not have any human habitation and is only visited by the few trekkers en route Makalu Base Camp.
Location: Koshi Zone, Sankhuwasabha district
Best time to visit: March to May and September to November
Entry fee: NPR 1695 for residents of SAARC countries, NPR 3390 for other foreigners for entering the Makalu-Barun National Park.
8. Bhaktapur Durbar Square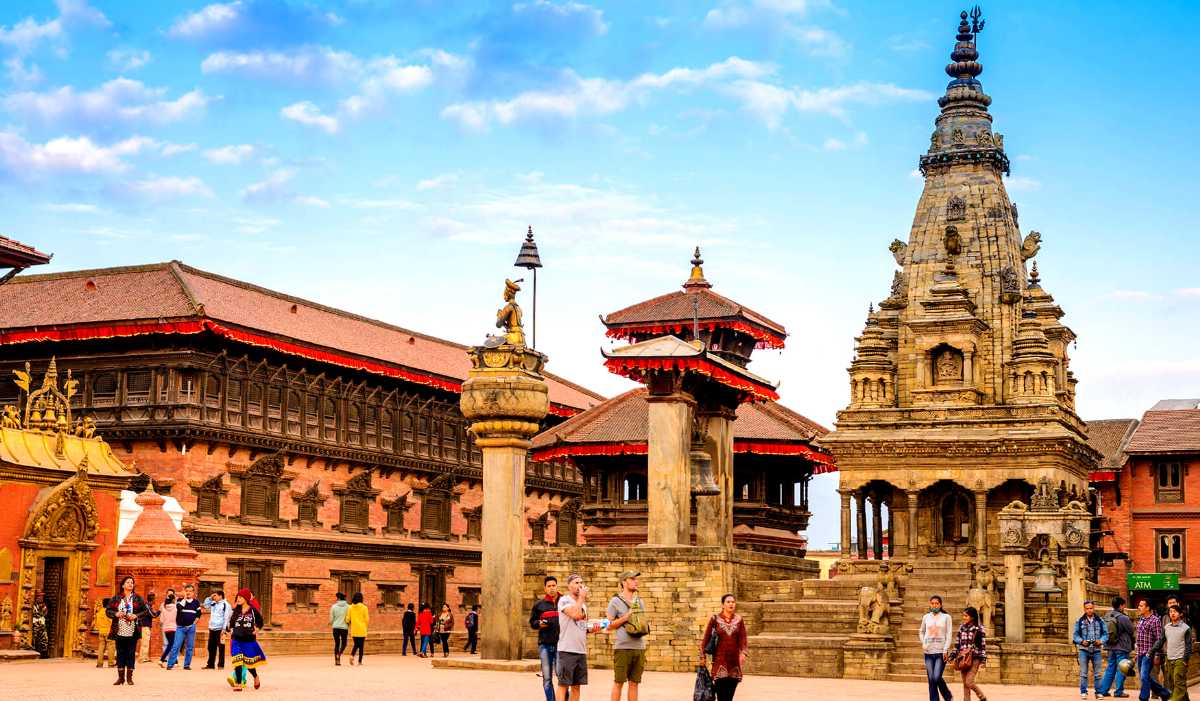 When you are in Nepal, a visit to one of its Durbar Squares is a must. These are the public areas containing centuries-old royal palaces and adjoining temples, gardens and other monuments from the times when Nepal was three separate kingdoms. Unfortunately, most of these historical places have suffered a lot of damage in earthquakes, but due to reconstruction efforts, they are still worth visiting. This beautiful place In Nepal is a great place to visit if you have a penchant for history. The entire area consists of four main squares where you can spot temples dedicated to various Hindu deities like Bhairava, Pashupatinath, Krishna and Shiv-Parvati, gates like Lion Gate and Golden Gate, the 55 Window Palace, statue of King Bhupatindra Malla, and many such beautiful structures portraying the intricate artwork of the craftsmen back then. Old is gold, as they say!
Location: Bhaktapur, Nepal
Best time to visit: All times
Entry fee: NPR 500 for residents of China and SAARC countries, NPR 1500 for all other foreigners
9. Panch Pokhari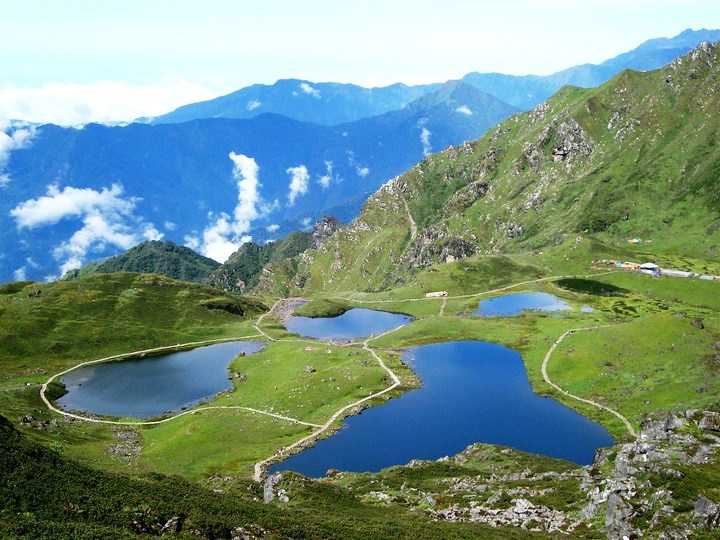 Panch Pokhari translates to a group of five lakes, located close to each other at an altitude of 4100 metres. It is considered to be a consecrated place by both Buddhist and Hindu devotees who throng the lakes during Janai Purnima (Raksha Bandhan). The site is beautiful and offers a peaceful retreat, away from the bustling crowd of Kathmandu city nearby.
Location: Bhotang, Sindhupalchowk District
Best time to visit: March to May and September to November
10. Annapurna Base Camp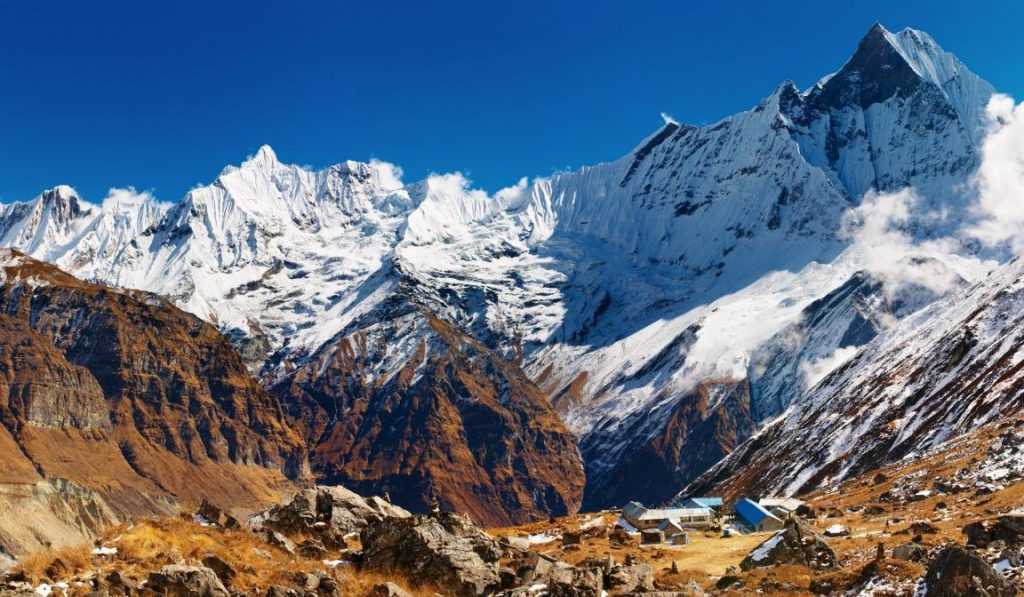 The Annapurna Base Camp, lying at an altitude of 4130m, gives you close enough views of the Annapurna Massif, Manaslu, Gangapurna, Machhapuchhre and many other mountain peaks without actually summiting them. The trek to the Annapurna Base camp is not easy. Still, throughout the path, you will be greeted with astonishing views that include everything from villages, paddy fields, beautiful rhododendron trees, dense subtropical to alpine forests, rivers and waterfalls and massive snow-covered mountains. The path passes through the Annapurna Sanctuary which is the abode of a zillion wildlife species. A lifetime experience indeed!
Location: Central area of Nepal, north of Pokhara
Best time to visit: October-November
Entry fee: NPR 226 for residents of SAARC countries, NPR 2260 for other foreigners for entering the Annapurna Conservation Area